The Blog
12/07/2015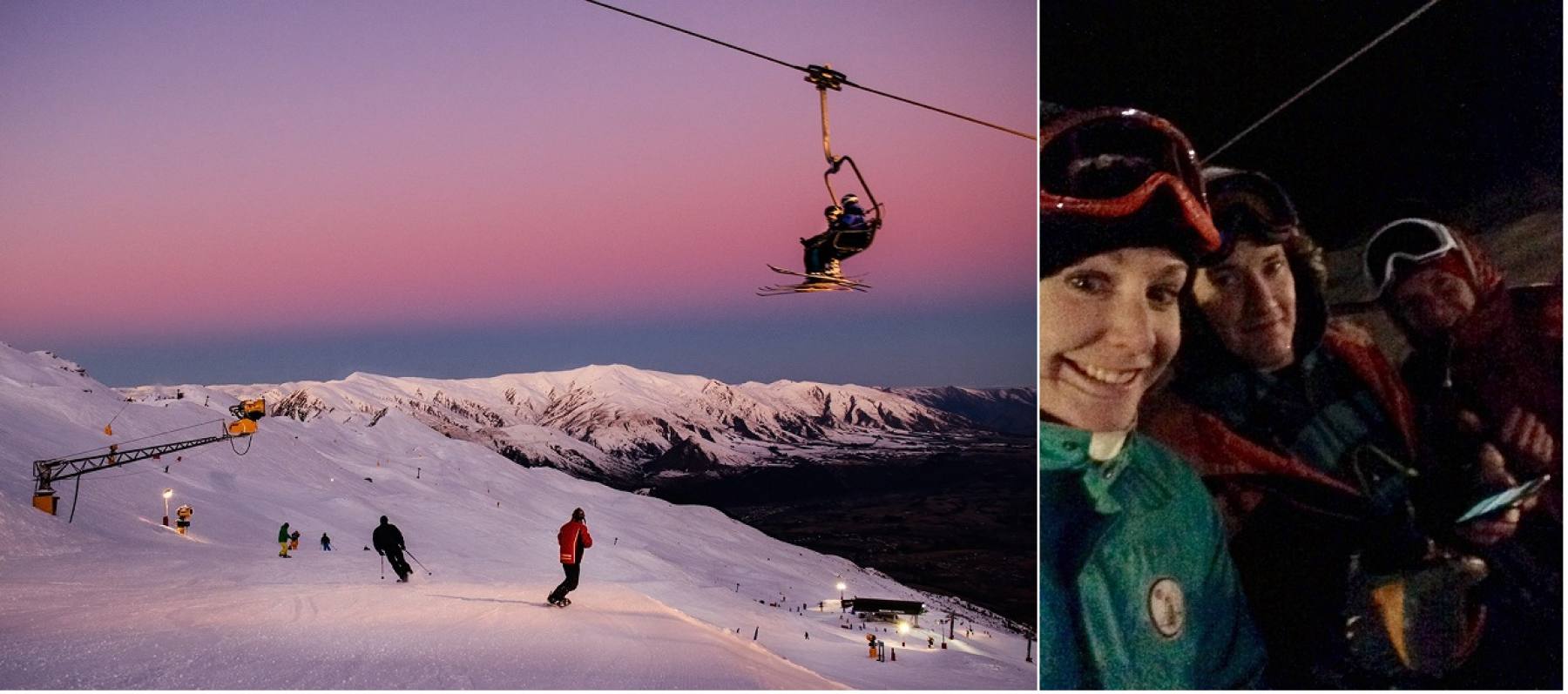 You may have picked up from my previous blogs that I place great importance on being warm, so in anticipation of this trip up the mountain I put on two layers of thermals as well as a layer of wool, a hoodie and my puffer jacket. After driving up Coronet Peak with the heater on full blast, getting out of the car was a bit of a shock... a rookie error on my part putting all my gear on for the drive up. My hands were the first to really feel it and as I did up the laces on my snowboard boots I was confident the trip up was going to be a good time, not a long time. The stunning dusk views have to be experienced even if you're only up there for a hot chocolate. The sunset spreads a purple layer over everything and the bright contrasting orange of the horizon line made us feel like we had travelled far to seek such a remarkable view. A comment made by one member of our group summed it up perfectly "People travel the world over for sights like this". It's amazing how lucky and satisfied you can feel when experiencing moments like that. 
As soon as I had walked the 500m to the base building I could feel myself warming up and by the time I made it up the stairs to the chairlift line, I was quite happy to stand out in the -1 degree air overlooking our extraordinary surroundings. The outdoor set up included fire pits, good music, and reasonably priced drinks and food, which is saying a lot for this town! 
The great start to the New Zealand winter season provided us with faultless evening riding conditions and from the setting to the atmosphere and impressive outlook, this was the perfect way to finish the working week! The cool crisp day had left the snow in a perfect state and with no wind, the top layer was just enough to get your face wet. The snow illuminated the ground below us and not only was the level of light a pleasant surprise; it enabled me to easily navigate between fellow skiers and riders. The high number of people up the mountain was slightly unexpected, with skiers and snowboarders of every ability loving the night skiing experience.
As the daylight started to fade we hopped on the chairlift and for the first time all week I could see the Remarkables soaring above the horizon line, imprinting their jagged silhouette on the night sky with Queenstown sparkling on the shore of Lake Wakatipu down below. The view was unbelievable and if you thought having a drink down on the waterfront on a Friday was a nice way to end the week, night skiing will truly exceed your expectations.
The time flew and before I knew it 9pm had rolled around and it was time to head home, its amazing how good you feel when you can drum up the motivation to do something like this after work and as for next Friday – my plans are set, you'll know where to find me! 
---
26.05.15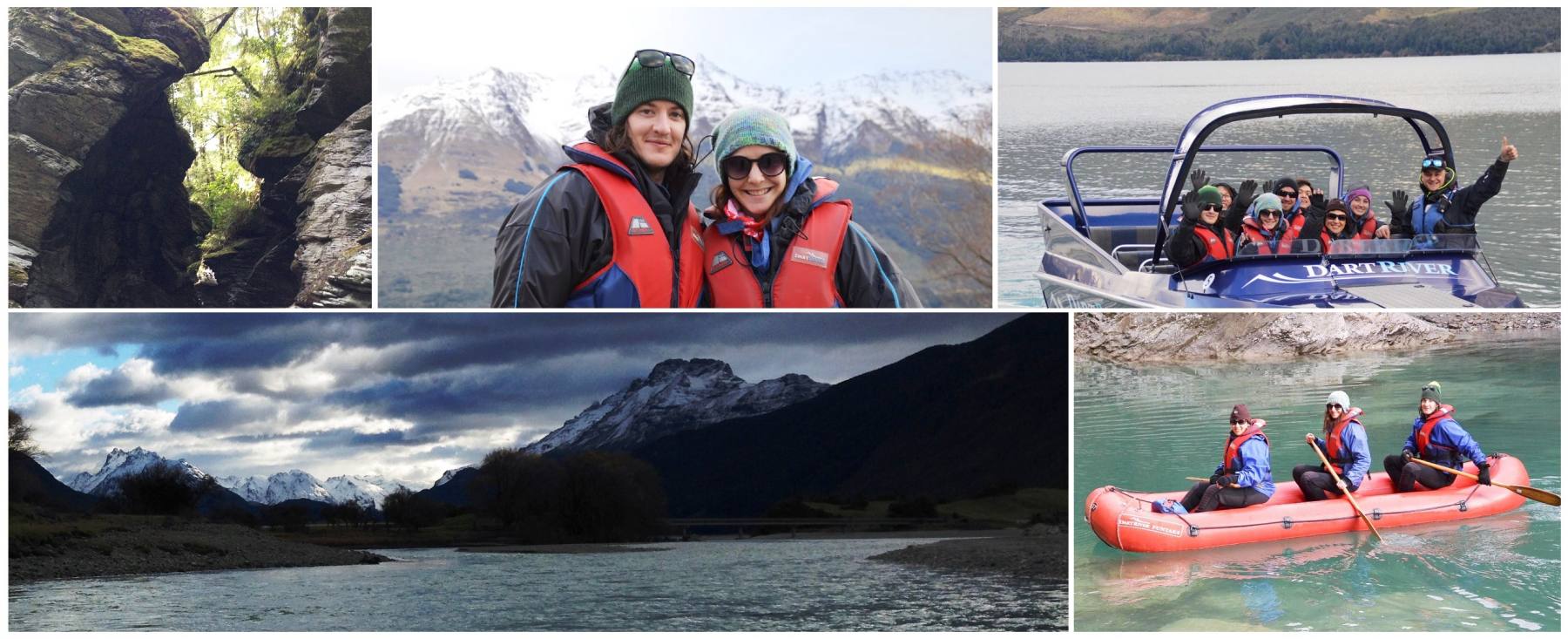 Living in Queenstown makes the real world seem like a faraway place. This town is built for lovers of fresh air, dramatic landscapes and exciting activities. You may have seen the news yesterday and the crazy amount of snow we received all the way down to the Lake, and just in time for the opening of this Winter season. Pounamu Apartments looked spectacular and those Guests lucky enough to be staying here awoke today to front and centre views of Cecil Peak and The Remarkables in all their glory. They look good all year round but the snow really defines their many ravines and fractures, amplifies their size and highlights their extraordinary beauty. 
The day before the snow arrived I had the opportunity to test out one of our favourite activities, the Dart River Jet and Funyaks. Mother Nature held off the low pressure system just long enough for us to make the most of the day. We caught the Dart River bus from outside Pounamu Apartments and our bus driver Morgan explained the lay of the land as we made our way to the head of the Lake. At Glenorchy we were met by another friendly face Dave, who got us kitted up in as much wet weather and thermal gear as humanely possible to wear…. out the door went all my concerns of being wet or cold and as we were loaded onto the bus I couldn't help but think we all looked like penguins and given the weather forecast we could well be heading into our natural habitat, the Antarctic. 
Then it was off to the Dart River Jet, Elliot our driver is a born and bred Glenorchy boy which means not only does he know the landscape and every towering peak as if they were literally in his own backyard but his genuine kiwi hospitality and friendly nature made this part of the trip an extra distinctive experience. It's great being surrounded by so many cultures and ethnic backgrounds in Queenstown but when you get to meet someone who grew up down here and their appreciation still burns as bright as any tourist, it is inspiring and exciting and it is clear Elliot is in his element among the river braids of the Dart. The trip itself was incredible with scenes from Lord of The Rings taking on a whole new life and Mt Earnslaw and the surrounding landscape carved out by the Ice Age thousands of years ago was even more magical than the movies portray!
We were dropped at Beans Burn at the foot of the Humboldt Mountain Range and met by our friendly Guide Gareth who was another asset to the day, fun, knowledgeable and humorous! After a round of hot chocolates it was onto the Funyaks for a quick lesson then off down the River. This was the best way to experience the scenery, the pace of the Dart River dictated how fast we went and as we meandered down the crystal clear waterways in our inflatable kayaks it was impressive to take in the sites from far beneath the towering giants overhead. 
Going into this activity I was slightly nervous my arms wouldn't be up to scratch but the reality was anyone could do this, there was no real skill or fitness level required for paddling which makes it a good option for all holiday makers and combined with the fact it was less than 8 degrees and I was still warm, I would highly recommend this to even the most conservative adrenaline junkies! The most impressive part of the Funyaks was the cave like crevasses we paddled through, surrounded by gigantic schist, covered in cascading water and with the most supreme jade coloured steams beneath, it was an unreal experience.   From there we walked through Native Beach forest to our delicious lunch, made even better with the addition of hot vege soup, camembert cheese and famous New Zealand lolly cake! 
Despite all reports the weather was kind and after a quick lie down in the sunshine among the grass, it was back into the Funyaks and back down the river to our waiting bus at Paradise Station before heading back to Glenorchy. It was an amazing day and for the fellow visitors on this trip who all chose to do it on their final day of their holidays I'm sure it stuck out as their most gratifying experience. I felt tired but so inspired and grateful to call this town my home, being out among the mountains again was highly satisfying and while I did fall asleep on the bus from Glenorchy back to Queenstown, I believe from pick up to drop off this was the best value excursion I've had the chance to enjoy! 
Another #NZMustDo!
See you soon
Rosie 

---
12/05/15
On Tuesday last week I had the opportunity to head out on the Real Journeys TSS Earnslaw dinner cruise to Walter Peak and it was amazing!  We set off at 6pm just on twilight and after a couple of drinks on board we reached Walter Peak Station. The impressive gardens are no less spectacular in the dim evening light, while the homestead itself was lit up like a beautiful Christmas Tree and looked (and smelled) so inviting! 

I was curious about the staff and the living situation out there, I could kind of imagine it turning into a lock-in (party) once the last boat cruised off home for the night but it's a credit to the Real Journeys recruitment team who seemed to ensure charming, responsible and most importantly PASSIONATE staff were looking after the property. I met a lovely waitress Katie who mentioned she had been there on and off for 7 years and loves it because she can keep her horse on site and the feel of the place just kept calling her back. I can definitely see how that is possible.
Inside the homestead was striking, superb furnishings and very well maintained but still paying homage to its heritage and antiquity.  We were separated into groups, couples and family dining areas and even with almost 200 passengers on board I didn't feel one bit like we were under pressure to fill our plates before the food ran out. We started with the antipasto selection which included a collection of every kind of cheese you would want as well as peppers, olive, dips, spreads and home baked breads.  Then I was into the seafood, then meats including mouth-watering roast lamb and veges, back to cheeses and then the best part, dessert! Every course exceeded my expectations and was perfectly complimented by the amazing service provided by the team of observant and willing staff. 
Just when I thought it was all winding down we were greeted at our table by an energetic farmer Cam who invited us out to enjoy a working dog and sheep shearing demonstration.  I'm not sure if it was the wine or if this was really as hilarious as I recall but the sheep on that Station have attitude! The dogs had their work cut out for them but were incredibly well trained and a joy to watch. After attempting to shear one feisty Ewe, Cam found a slightly more obedient one and made sure the commentary throughout the entire show was entertaining and informative.
Then it was home time, and I knew even before leaving there was no chance I won't return. I plan to head back in daylight because I imagine it brings a whole different aspect to the experience and if you are coming to town I encourage you to do it too. The cost for the dinner cruise and show is $120 per person and if I was to go out in Queenstown for a 5 course meal the cost would be similar and with the added enjoyment of getting to know The Lady of The Lake and Walter Peak Station this trip should be on your NZ bucket list! 
We're another week closer to the Winter season kicking off and The TSS Earnslaw is now on the slip for her annual maintenance checks so the dinner cruise to Walter Peak has been taken over by a slightly newer vessel for a few weeks. If your planning a visit get in touch with our team to book secure your spot.
See you soon!
Rosie
---

04/05/2015
When is it going to snow?
My most favourite questions are 'when will there be snow?', and 'when should I make my winter booking?'.
Ok, maybe 'most favourite' is an exaggeration…. but having spent the last month getting to know this town better, the benefits of booking a holiday in the action and activity mecca that is Queenstown have become clear. No matter when the snow is at its best, there is more on offer here than you can ever imagine! 
With winter only a month away I am once again getting extremely excited and this year more than ever because I am finally back home in New Zealand at the stunning Pounamu Apartments. After spending the last few years in Australia the anticipation of a Kiwi season has got me bursting at the seams. Bigger mountains, better views and good Kiwi hospitality!
While I enjoyed my time over the ditch, I have to say the highpoints of coming home were reinforced instantly through meeting the world's friendliest Customs crew at Queenstown Airport, the buzz of downtown and the great mix of cultures and tastes as highlighted by a single stroll down the main street. The most surprising news since arriving home is the extension of the New Zealand snow season by some resorts, in an effort to match the Australian winter. I was quizzical to say the least, at how we were planning to pull this off but have since been informed that the snow is usually there, it's the issue of staffing which was previously holding up play. 
So, when will the snow arrive….? The early April snowfall we received was the first of its kind since 1992. Now, to some of you that may not mean much but for anyone who lived in rural NZ during winter 1992 they remember it as the year the kids couldn't get to school for days.  My money is on late May, despite combining my hopes with some vague facts (provided by a Grasshopper) I think we can all agree the lead up to this winter has been colder than most, and while I'm not sure the Weather Gods are in tune with what is fair, NZ deserves a good season! 
I grew up in Canterbury and had amazing options for skiing so long as I was up for combating a nut cracker and navigating intense access roads. Along with our Guests at Pounamu Apartments, I am now spoiled for choice with impressive commercial operations left right and centre, some even offering sealed roads… now that is a treat! Whenever the snow decides to show its pretty flakes, I am truly so excited to be back in a town which celebrates and caters to Tourists every month of the year. 
See you soon!
Rosie G
Snow Lover & Marketing Coordinator
Pounamu Apartments